Italian television network RAI2
RAI 2, Radio Italian Television, Luca Falace, GeniusOm. 
Television program "The Facts Your" Giancarlo Magalli RAI 2, Tuesday,  April 11, 2017.
Luca Falace and Giancarlo Magalli, GeniusOm, Patent Office Rai 2.
Italian television network MEDIASET
GENIUSOM COMPACTOR, SHARK TANK ITALY, CHANNEL ITALIA1
 Italian television network MEDIASET, CHANNEL ITALIA1, on the 4th of june, 2015.
GeniusOM | Geniusॐ Compactor | ZERO WASTE​
Video 01:46 minutes  
Video 02:10 minutes  
GeniusOM | Geniusॐ Compactor | Full Video 
Video 04:44 minutes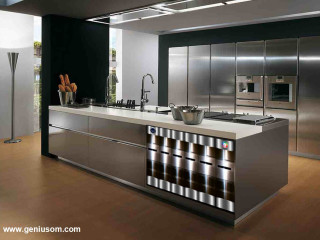 GENIUSOM COMPACTOR ZERO WASTE The GENIUSOM machinery was developed for domestic and urban use. It reduces significantly the amount of urban waste, making the disposal and separate collection of wet, plastic, metal and paper waste possible. Its appearance is similar to most household appliances making it suitable for schools, hospitals, airports, planes and ships. Geniusom compactor solves the problem of waste all over the planet Earth.
GENIUSOM COMPACTOR
SOLVES THE PROBLEM OF WASTE ALL OVER THE PLANET EARTH
1) The compactor geniusom compacts the 80% of the volume of all the public urban waste, solving the problem at the origin of the world's municipal waste.
2) The compactor geniusom is the only machine in the world that a single command can shrink by 80% and differentiate all the municipal waste: organic, moist, plastic, paper, undifferentiated, metal and glass.
3) The patented compactor geniusom mechanism can be manufactured to any size and and therefore endless types of geniusom compactors can be built with the same mechanism to fit into any home site, private or public in any place where the human being is, offering a new essential service all over the world.
4)The machinery has different sections for each type of waste and it compacts each one, making it possible to throw waste away once two weeks rather than on daily bases.
5) The costs of the compactor are low and therefore it becomes easy to distribute it throughout the global market, becoming an indispensable good for civilization.
PATENT GENIUSOM BY LUCA FALACE
Genius-OM L.E.T.S.I.S. Robotics Patents
PATENTS FOR THE GREEN ECONOMY
PATENT: GeniusOm by Luca Falace's Invention and Patent 
BREND: GeniusOM Copyright © by Luca Falace all Rights Reserved
Genius-OM L.E.T.S.I.S. Ecological Technology Line with Intelligent Systems Solutions